About Holly Ireland Photography
Your Premier San Diego Wedding & Family Photographers
Please watch the video below to get to know us!
About Holly & Bruce
Holly's creative side started at a young age. Growing up in Fountain Hills, Arizona Holly's life was dedicated to dance. At the age of 18 Holly landed her first Broadway show and continued working on Broadway for 15 years. She performed in 6 different Broadway shows, 4 National Tours, and numerous film, TV and print appearances. After being in front of the camera for so long, she now carries the same creativity and passion to the other side of the lens.
Holly has a unique quality to her family and wedding photography. Being involved in the creative arts for so many years, she has the ability to take command and direct the shoot, while bringing out the best in her clients. Holly's warmth and engaging personality allows her clients to relax and feel comfortable.
Holly now lives in Carlsbad California with her husband Bruce and two girls, Brooke and Addy. They love the community they live in and enjoy all the beautiful locations San Diego has to offer.
Holly's husband Bruce, shares in her passion for photography. He is involved in the sales and marketing side of the business and is her second shooter for weddings and large events. As an avid outdoorsman, Bruce's other passions include surfing, fishing and triathlons.
Ironically, if it wasn't for a camera, and a twist of fate, Bruce and Holly may have never met. In 2006 Holly was in Tokyo, Japan with the Billy Joel show "Movin Out". As luck would have it, Bruce was also in Tokyo on business. With some free time on his hands Bruce took the subway to buy a new camera. In the crowded train station, on his return to his hotel, he first spotted Holly. However because of the chaotic subway, no words were exchanged, only a brief smile. But as fate would have it, their paths crossed again. This time in a gift shop a few days later, on the other side of Tokyo, and the rest is history. In a city of 20 million people it is amazing how something like a camera could tie two lives together.  (Photo credit above: Marisa McBride)
---
Awards & Recognition
Over the years Holly Ireland Photography has been awarded, and named, as one of the best San Diego wedding photographers by multiple organizations and publications. We believe our commitment to providing the best heirloom quality products, highly personalized services, and simply wanting to take care of our brides and grooms has led to these accolades. We are both humbled and honored to have won and been named as so:
---
The Best Wedding Photographer in San Diego by A List by City Voter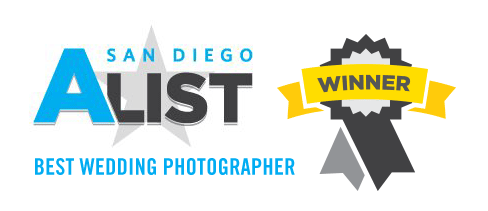 We are extremely proud to have been named the #1 San Diego wedding photographer by San Diego A List. With over 160 of the top San Diego wedding photographers in the running, and with over 45,000 votes cast, Holly Ireland Photography was voted #1. Up against so much talent, we are still in awe. A special thank you to everyone who voted for us!
---
Expertise's Best Wedding Photographers in Carlsbad, California

Expertise is a website that independently finds and reviews the best local experts and professionals in their fields. Their criteria for selecting the best are based on reputation, credibility, experience, availability and professionalism. This year they reviewed 43 wedding photographers serving Carlsbad, CA and selected the Top 9. We are honored to be on their list both this year and last.
---
WeddingWire Couples' Choice Awards®

We are honored to have received the WeddingWire Couples' Choice Awards® in 2014, 2015, 2016 and 2018. This awards recognizes the top five percent of local wedding professionals on WeddingWire who demonstrate excellence in quality, service, responsiveness, and professionalism. Winners are determined by reviews from over a million WeddingWire newlyweds. More importantly, we are proud that all 46 of our reviews are ALL five stars.