SAN DIEGO WEDDING PHOTOGRAPHER, HOLLY IRELAND PHOTOGRAPHY
Holly Ireland Photography is anything but your average San Diego wedding photographer. Each wedding is treated with care and creativity not found with other photography studios. Your wedding day is carefully crafted to offer one of a kind unique photography in the San Diego area.
This truly is San Diego wedding photography at its best. Holly Ireland Photography is a highly sought after photography company that truly makes your wedding day a memorable experience. Offering wedding coverage in the San Diego, Orange County, Los Angeles, as well of destinations across the state of California and beyond. Holly Ireland Photography is truly one of the best wedding photographers, period.
Creative, Elegant, and Unique are words that have been used to describe this San Diego wedding photographer. Holly Ireland Photography truly is a world class studio that offers what no other wedding photographer can, a one-of-a-kind wedding day experience.
Holly Ireland Photography takes pride in offerings our clients what they are looking for when searching for a premier wedding photographer; beautiful art work for their home. Any San Diego wedding photographer can take pictures, but few can make pictures into art. So if you are looking to make your wedding day truly a perfect day, then put Holly Ireland Photography at the top of your list.
Holly Ireland Photography serves all areas of the San Diego metro area including La Jolla, Carlsbad, Cardiff-by-the-sea, Encinitas, Leucadia, San Diego, San Marcos, Solana Beach, Del Mar, Temecula and Rancho Santa Fe.
Remember, Holly Ireland Photography, your choice for San Diego wedding photography. Because Memories Fade…
Please watch the video below to get to know us!
HIGH SCHOOL SENIOR, DANCE & FAMILY PHOTOGRAPHY TOO
Although we focus on wedding photography, we also specialize in high school senior portraits, family portraits or dance photography. So if you're looking for senior pictures, family or dance photography, call or email us today for pricing and don't forget to check out our portfolios and blog! On last thing, click here if you are looking specifically for family beach portraits.
HOLLY IRELAND PHOTOGRAPHY VOTED #1 WEDDING PHOTOGRAPHER IN SAN DIEGO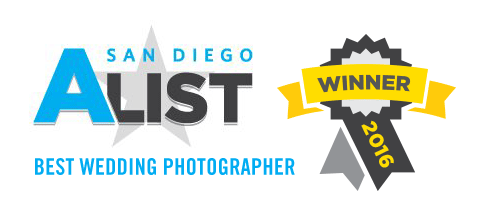 Holly Ireland Photography is excited, humbled and honored to have been voted the Best Wedding Photographer in San Diego through San Diego's A List by City Voter.
With over 160 of the top San Diego wedding photographers in the running, and with over 45,000 votes cast, Holly Ireland Photography was voted #1. Up against so much talent, we are still in awe. A special thank you to everyone who voted for us!
In additional to this honor, Holly Ireland Photography was also named as a 2018 Best Wedding Photographer in Carlsbad by Expertise. Expertise is a website committed to creating lists of the best local experts and professionals in their fields. They reviewed 43 Carlsbad, CA wedding photographers and selected the best nine. We are honored to be included.